Our Fundraising Sales started out years ago as a once-a-year "mega" yard sale that was held at the Bedford Moose Lodge. It was just one of our many fundraising events.
When we were gifted our building on Blue Ridge Avenue, we decided to continue these yard sales outside and in the front part of our building on the first Saturdays of every month. Once these sales became popular and gained a following, we expanded and opened the entire front room and part of our annex Tuesdays, Wednesdays, and the first Saturday of each month.
We rely on donations from the public to make these sales happen! We are so blessed by local citizens and businesses who bring in not only used items but often new items, to sell in these sales.
All of the money we earn through these sales goes towards supporting our yearly programs which include Christmas Selection eXpress, Easter Eggstra, Shoes for Students, and our Year-Round Food Pantry.
2023
Come shop our Fundraising Sales on Tuesdays and Wednesdays from 10 a.m. to 4 p.m. and Saturdays from 9 a.m. to 1 p.m., now through September 30th, 2023!
We have so many treasures donated by our local community. You can find clothing, shoes, kitchen goods, furniture, toys, Christmas decor, home decor, and so much more!
Are you looking for a place to donate items? All of the donations we receive from the community go on our "sales floor" to raise money for the programs we have for local families in need.
Please note: We do not accept the following donations:
Mattresses
Box Televisions
Badly soiled or dirty furniture
Large exercise equipment
Pianos/Organs
Computer Components
Books
VHS Tapes/Players

2022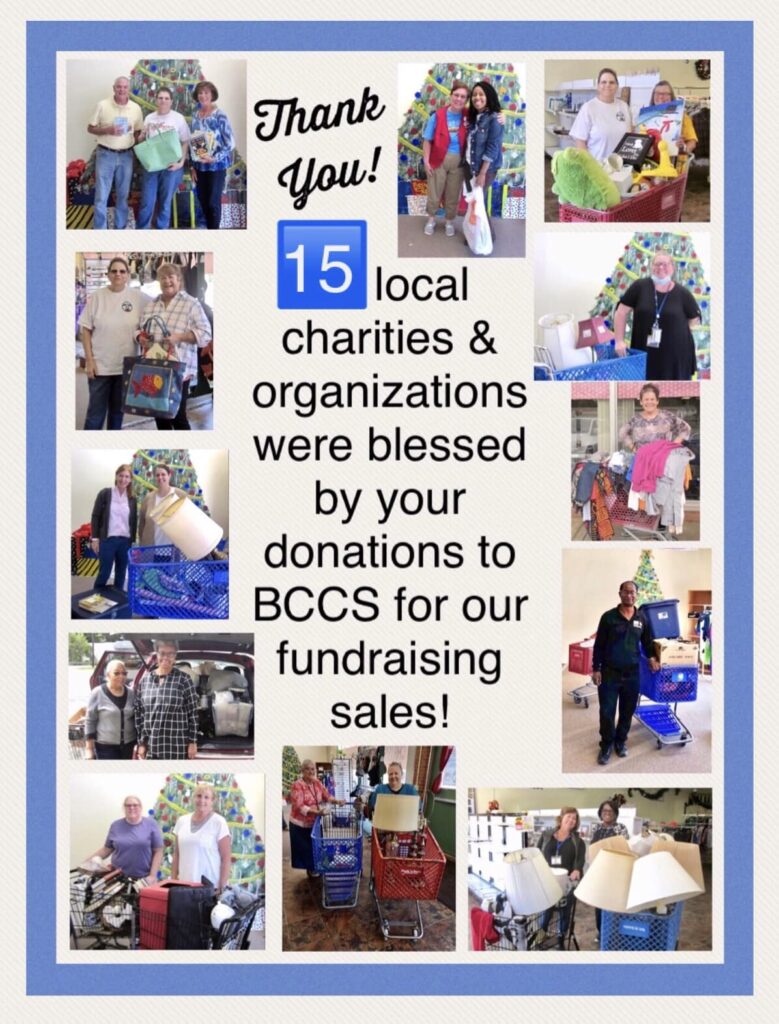 We are so grateful to everyone in the community that donated items to and shopped our Station Fundraising Sales in 2022!
At the end of our sales season, we invited local charities and organizations to come to the station and select items for their programs from our remaining fundraising sales merchandise.
Your donations helped:
Bedford Domestic Violence
Bedford Cares (Trap•Neuter•Release)
Bedford Christian Ministries
Bedford MASTER Gardeners
Bedford Pregnancy Center
Bedford VA Elk's Lodge "Purse Program"
Friends of Bedford County Animal Shelter
Ghana Missions
Home for Hope
Horizon Act Team
Horizon Housing Specialist
Horizon Wellness Center
Little Otter Flower Farm
Rwandan Hugs
Remaining items were donated to Agape Ministries