Thank you!
We are so grateful to the numerous Bedford County residents, organizations, churches, and businesses who donate money, new items, and used items each year to our organization!
Monetary donations are used to purchase new toys, clothes for children and teens, gifts for teens, household items, personal care items, food, and cleaning supplies for our annual Christmas Selection eXpress program.
2022 Grants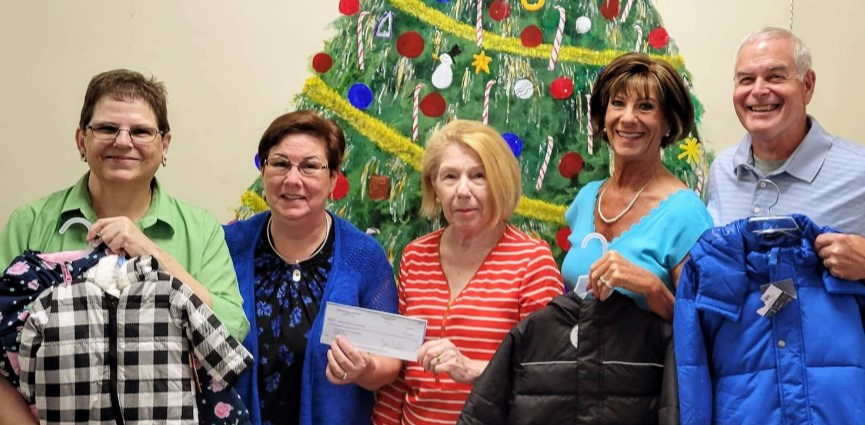 BCCS is honored to receive a grant from the Bedford VA Elks Lodge (#2844) for a "Coats for Children" project.
The funds will be used for our Christmas Selection eXpress program in December. We will be able to purchase approximately 65 new coats for children in need at Christmas time.
2021 CSX Donations
The Mountain View United Methodist Church in Forest, VA provided an incredible amount of donations to our CSX program in 2021. We are so grateful for their generous donations which helped make our 2021 CSX program a success!
A food donation helped fill over 125 food boxes for our November distribution to those in need.
Funds were given to fill 225 personal care bags for families who were approved to shop in our CSX program.
Funds were provided to help towards purchasing hams that will be placed in the December food boxes.
Funds were given to purchase snacks for our seniors and adults with disabilities for our CSX program.
Finally, congregation members were able to donate clothes, toys, household items, and so on, to our CSX program through an Angel Tree that was set up at the church.
Other 2021 Donations
Billy's Drummer Boy Challenge
Billy visited the Christmas Station and gave us his donation for the 2021 Drummer Boy Challenge. Donation drums were located in businesses all over Bedford and so many people donated! Please visit our Billy's Drummer Boy Challenge page for more details on this special donation opportunity.
Po Boy Customs & Crawford's Garage
BCCS was the recipient this year of the proceeds collected at the 3rd annual Apple Valley Car Show.
Resurrection Catholic Church
We received a generous donation from Resurrection Catholic Church members Jim & Gail Urban who head up the church's Joyous Junque sales! We were so thankful to receive a portion of the proceeds from their fantastic sales. It's so inspiring to attend this event and hear from all the wonderful organizations that are blessed by this giving parish!
Bedford Area Chamber of Commerce
BCCS was the recipient of a portion of the proceeds from the 2021 Chamber's Christmas Holiday Market.
Bedford Virginia Furniture Market
BVFM Manager Robert Younger Jr. presented a generous donation to BCCS. We were thrilled that he was able to see our Christmas Selection eXpress program in action.
2021 Grants
Below are some names of organizations that donated money in the form of grants. We are so grateful for their contributions!
Blue Ridge Area Food Bank
We were awarded an Opportunity II grant from the 2021 Agency Capacity Fund towards a new roof for our building as well as funds for the purchase of two refrigerators and a laptop, tablet, monitor, and printer for our administrative needs.
Helping Hands of Bedford
We were awarded the remaining funds needed for replacing the roof on our building as well as funds to move our HVAC unit from the ground to the roof.
The Bedford Community Health Foundation
We were awarded funds to help purchase health and safety items for our seniors and adults with disabilities as well as personal care items and food to be given out in our monthly food boxes.
Greater Lynchburg Community Foundation
The funds we received from the GLCF were put towards electrical upgrades that were desperately needed in our building. We were able to switch to LED lighting in our entire facility and upgrade the electrical outlets and circuit breaker box. These upgrades will help save money on our monthly electric bills and provide a safe environment for our volunteers and the community.