Overview of our Program
After the Easter season closed out in 2015, Walmart donated a large number of baskets, grass, eggs, and die kits to us. We began thinking about what we could do with all these goodies to give back to those in need in the community.
That next year, 2016, we launched our Easter Eggstra program! Each year since we've provided families in need with the ability to provide a memorable Easter for their children!
---
2023 Easter Eggstra
This year's Easter Eggstra families received a pantry box containing some Eggstra items such as fresh eggs, carrots, potatoes, a frozen turkey breast, and an egg-dying kit.
Parents received an Easter bucket for each of their children, plastic eggs, a chocolate bunny or stuffed bunny for babies, jelly beans, and selected from a variety of toys to fill their buckets. We also drew winners for some hams and turkeys we received from the Lynchburg food bank.
We were blessed to be able to provide some Easter cheer for these families!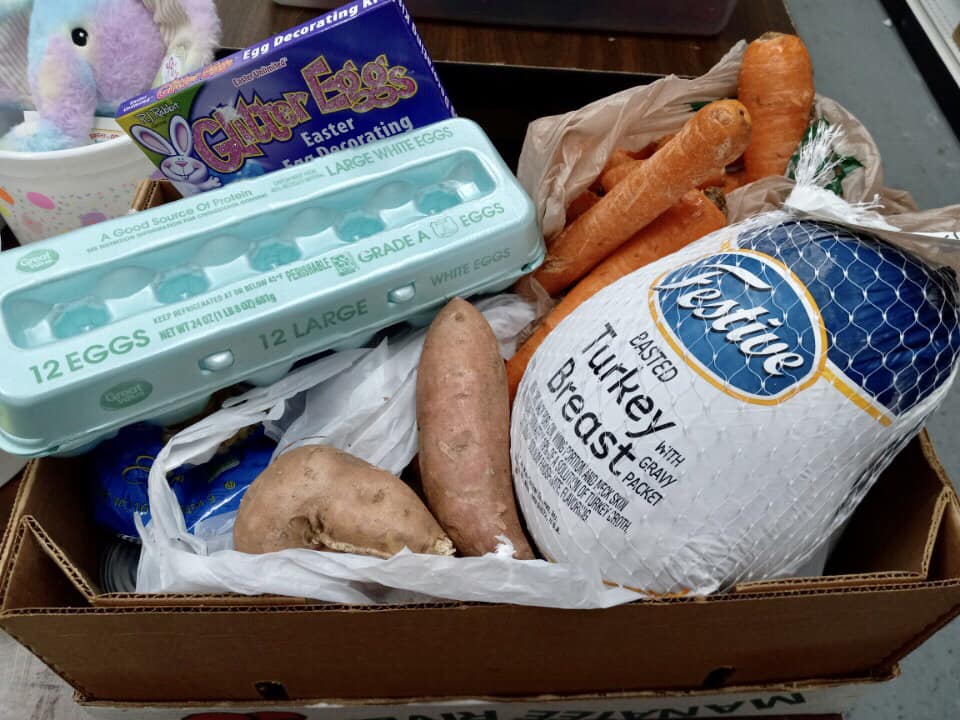 ---
Our 2022 Easter Eggstra
On April 9th, we provided 71 children with Easter goodies!
Easter buckets were filled with a chocolate bunny, jelly beans, and a sleeve of plastic Easter eggs. Parents were then able to pick other gift items to pair with the buckets. The pictures below show all the wonderful things made available to make Easter special for these children!
These 71 children belonged to a total of 28 families. Each family received a food box, and for the first time ever, we were able to provide a dozen fresh eggs, fresh apples and potatoes, a variety of canned goods, paper products, and a canned ham.