At age 8, Billy overheard his mom, a Christmas Station board member, discussing with his dad the fact that the Christmas Station had tight funds for that year's Christmas Selection eXpress program.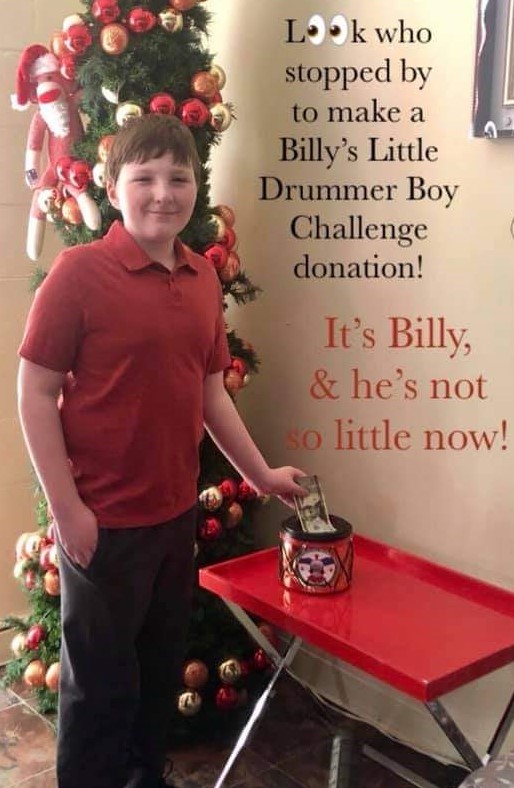 Billy, moved by the story, took all the money he received for his birthday, chores, and good grades and presented it to his mom to help the Christmas Station! Moved by his great generosity, she suggested he donate $10 of his money and ask his Sunday school classmates to match his donation.
So began Billy's Drummer Boy Challenge.
Each year, you will see donation drums on the counters of several Bedford County businesses in July, November, and December. The Christmas Station also receives mailed donations marked with "Drummer Boy Challenge" in the memo line of a check!
If you feel led to give in one of the Donation Drums around town, or mail in a check, your donation goes directly to the Christmas Station to help with our December Christmas Selection eXpress event. Checks can be made payable to Bedford Community Christmas Station with a memo of "Drummer Boy Challenge".
Donations can be mailed to:
Bedford Community Christmas Station
P.O. Box 1353
Bedford, VA 24523
We are very grateful to the businesses who placed a donation drum on their counters during the months of July and November/December.
These businesses include Arthur's Jewelry, Avant-Garde Salon, Bank of the James (Bedford Branch), Bedford Social Club, Bell Treasures Antique Store, Bella Italia Restaurant, The Blue Lady Caterer & Cafe, BVA Mercantile, China Tastes Restaurant, Depot Street Cafe & Catering, Goose Creek Studio, Mi Patron Restaurant, MJ Styles Salon, The Nested MagPie Gift Shop, Original Italian Pizza (OIP), Rapid Printing, Sister to Sister Catering & Cafe, Something Else Boutique, Studio 15 Salon, and Trendsetters Salon.